Leadership
If you are interested in joining the Pride Community Center Board, please fill out this application.
2019 Board of Directors
President : Chris Riggins
Pronouns: He/Him/His

Chris is originally from Graham, Texas. He is a proud member of the Texas A&M University Class of 2018 with a Bachelor's of Science in Recreation, Park & Tourism Science. Chris has gone to school, lived, and worked in Bryan College Station for more than 5 years now, and is proud to call the Brazos Valley home. He is the Marketing Manager of a local non-profit organization, and is passionate about making the Brazos Valley a better place to live, work, and visit. He loves going to the movies, trying new restaurants, traveling, and spending time with his dog, Lorelai. Chris is excited to help further the mission of Pride Community Center and serve the local LGBTQIA+ community. He looks forward to seeing this organization grow and become a resource for people of all backgrounds across the Brazos Valley.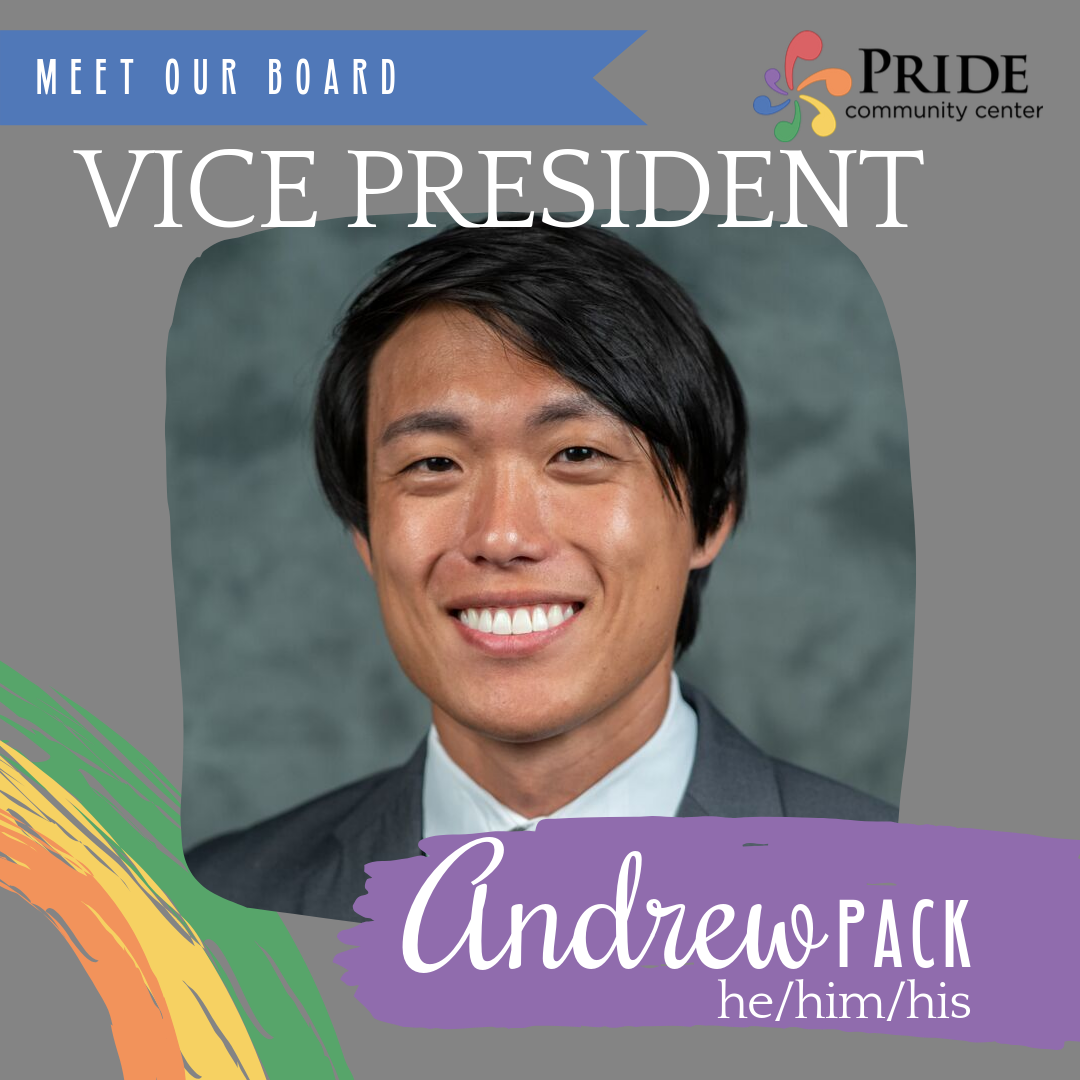 Vice-President : Andrew Pack
Pronouns: He/Him/His

Andrew grew up in Colorado Springs, CO and is a recent transplant to College Station TX. Andrew graduated from UCLA in 2015 where he volunteered in the LGBT Campus Resource Center, lived in San Antonio for 4 years where he was involved in HIV prevention and community work, and is currently a MD/MPH candidate at Texas A&M COM/SPH. He is passionate about helping to create community spaces of inclusion, collaboration on creating programming that serves the community, and elevating LGBT voices. In his free time, he enjoys running, drinking too much coffee, and meeting new people.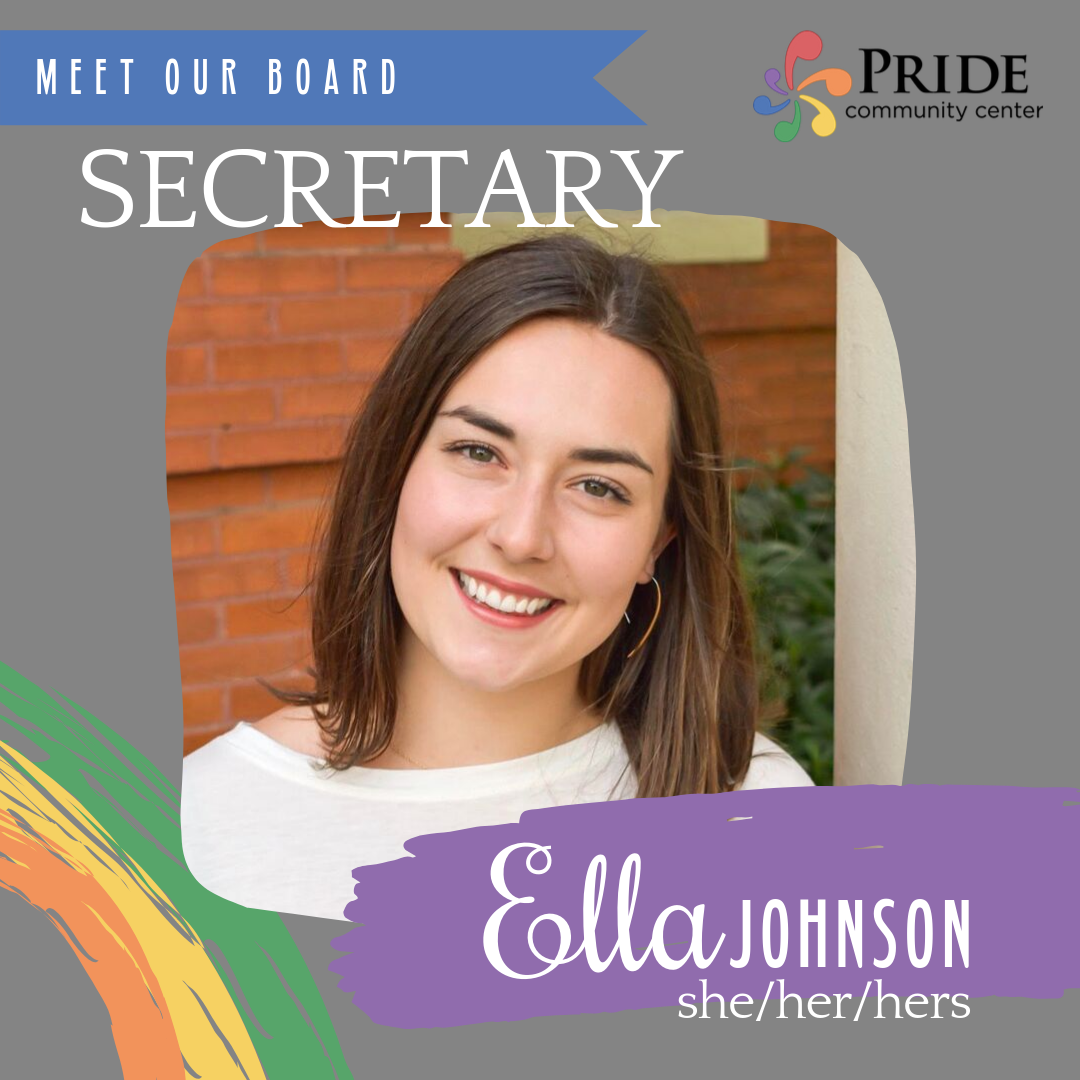 Secretary:
Ella Johnson
Pronouns: She/Her/Hers

Ella is an A&M graduate, class of 2018 and the Program Director of a local non-profit. She aspires to be a part of strengthening our community through acceptance and education. Ella plans on going to law school in the future, and hopes to practice civil rights law. She hopes to use her education and experience to help empower and support individuals with all different backgrounds. Ella is also a proud dog-mom to a sweet pup named Goose. She looks forward to all we can do for our community, together.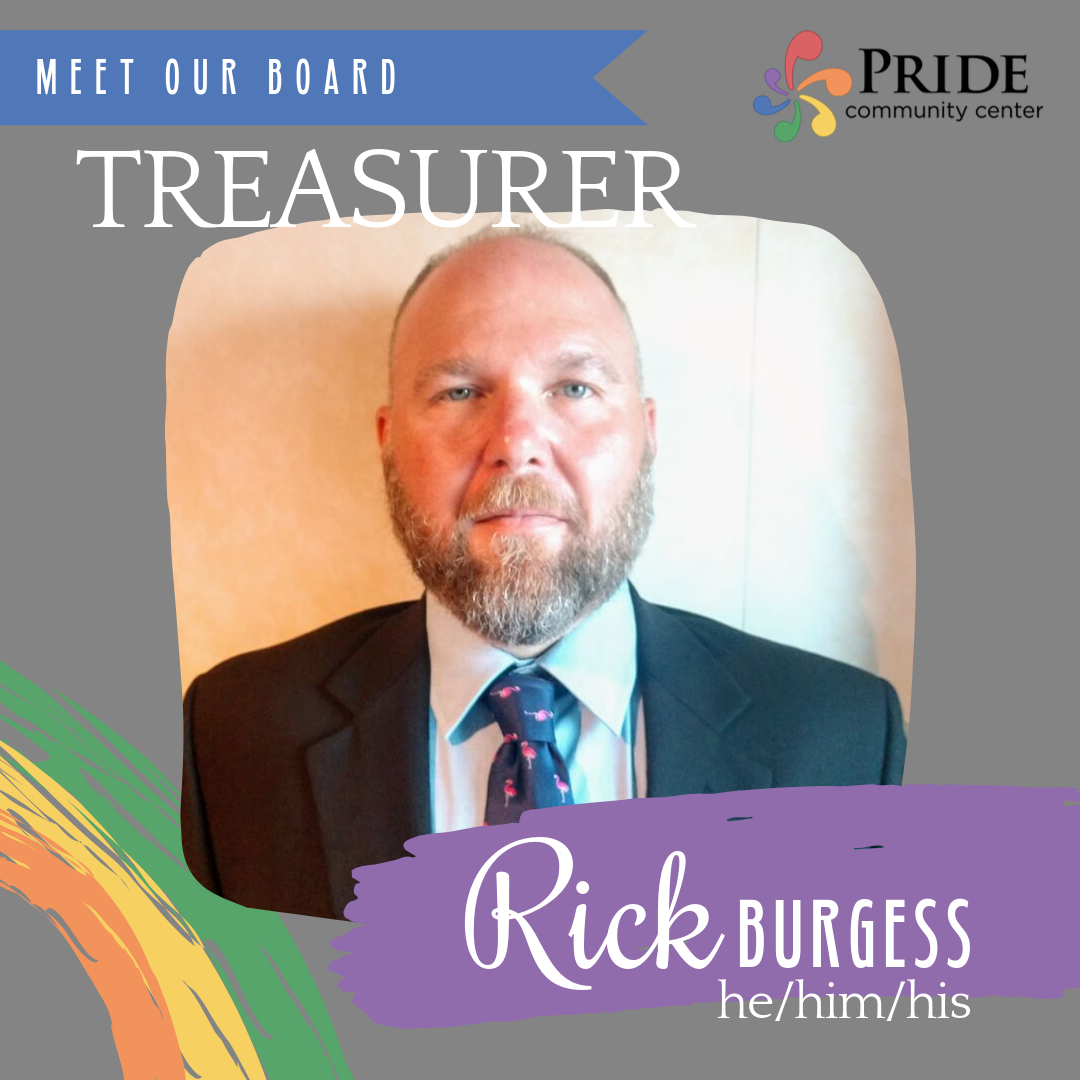 Treasurer:
Richard 'Rick' Burgess
Pronouns: He/Him/His

Rick is originally from Ingleside, Texas. He is a member of the Texas A&M University Class of 1997, and holds a Bachelor's of Science in Poultry Science. He is a Certified Quality Auditor and Certified Pharmaceutical GMP Professional. After graduation, he moved away for work, living in Indiana, Minnesota, Ireland and Arizona. He has made a career as a microbiologist and sterilization engineer in the medical device industry. Rick relocated back to the B/CS area in 2012. He lives near Somerville with his husband Josh and their Blue Heeler Trinity. Together they maintain a start-up vineyard and enjoy living in the country.
Rick is a founding member and President of Leather and Lace of the Brazos Valley. He has a history of community service and fund raising with various non-profit organizations. He is excited to be a part of Pride Community Center, to help shape the goals and direction of PCC and further its mission.
In his spare time, he enjoys travel, theatre, beaches, making wine and cooking. He hopes to learn from and enrich the local LGBTQIA+ community through ongoing engagement and personal action.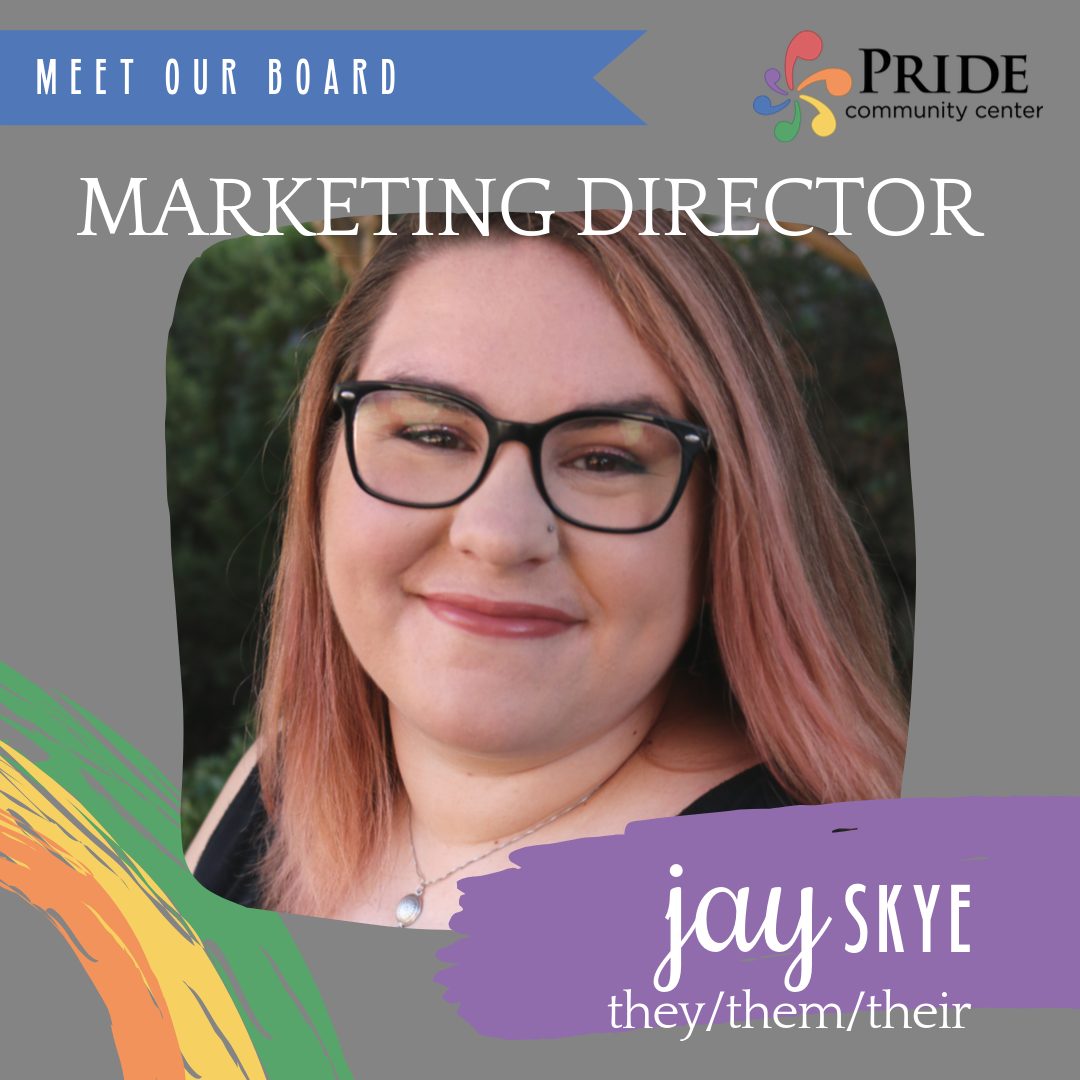 Marketing Director:
Jay Skye
Pronouns: They/Them/Theirs

Jay is a native of Rochester, NY. Jay received their Bachelor's Degree from the Rochester Institute of Technology and their Master's Degree from the Warner School of Education and Human Development at the University of Rochester. Jay now works at Texas A&M in the Department of Student Activities. They are passionate about creating inclusive environments, advocating for marginalized and minoritized individuals, and continuously working towards equity. In their free time, Jay enjoys crafting, sleeping, and spending time with their partner and cat.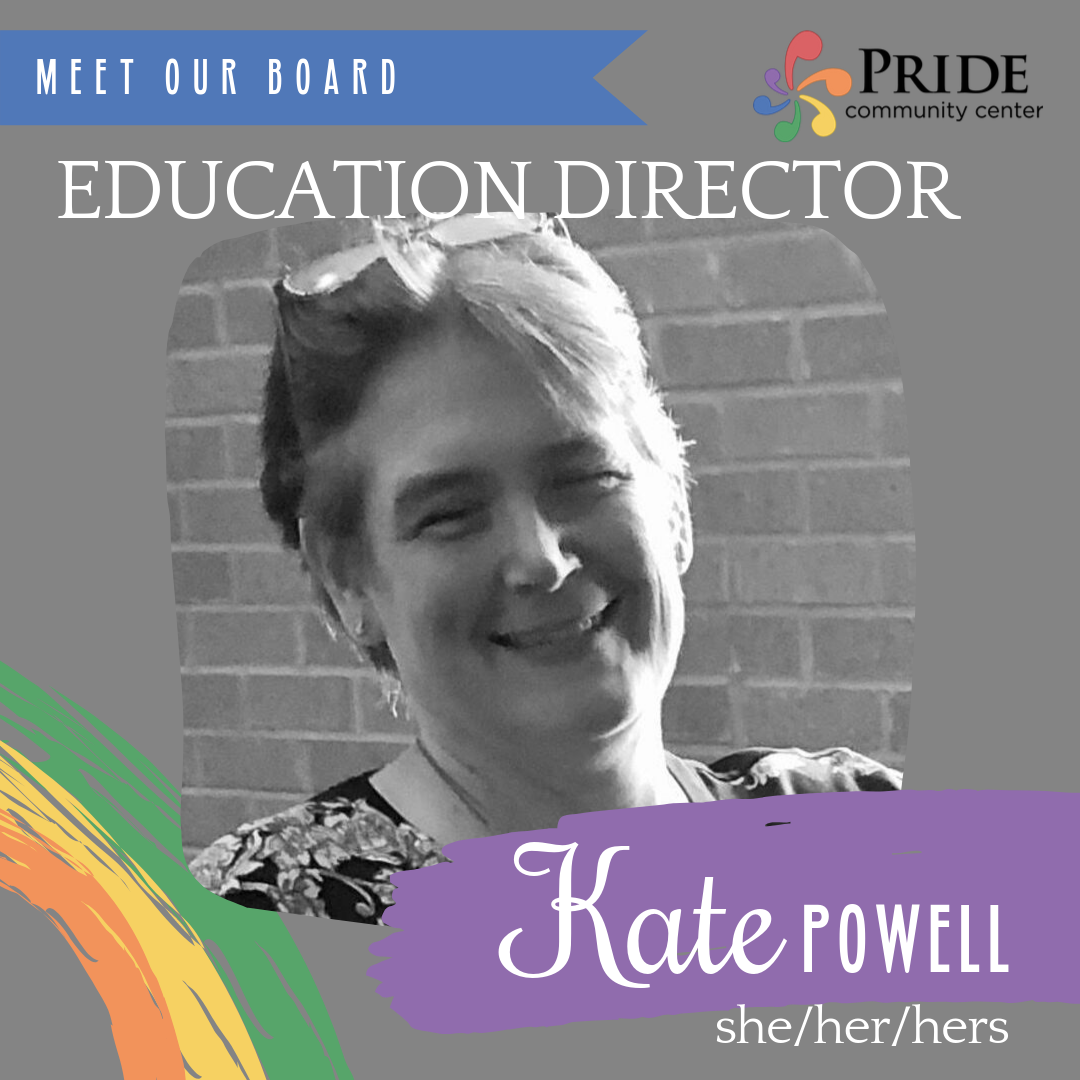 Education Director:
Kate Powell
Pronouns: She/Her/Hers

Kate followed her oldest child to the BCS area when they started at Texas A&M nine years ago. After spending 15 years in case management for HIV Health Services and the Area Agency on Aging she's been teaching elementary school for the past 4 years. She's been a volunteer and activist since middle school serving as a Girl Scout leader for 25 years and on the Pride CC board since 2014. She is married and has five children ages 15 to 29 who are constantly challenging her to explore her privilege and preconceptions. She practices yoga and plays entirely too much Pokémon GO.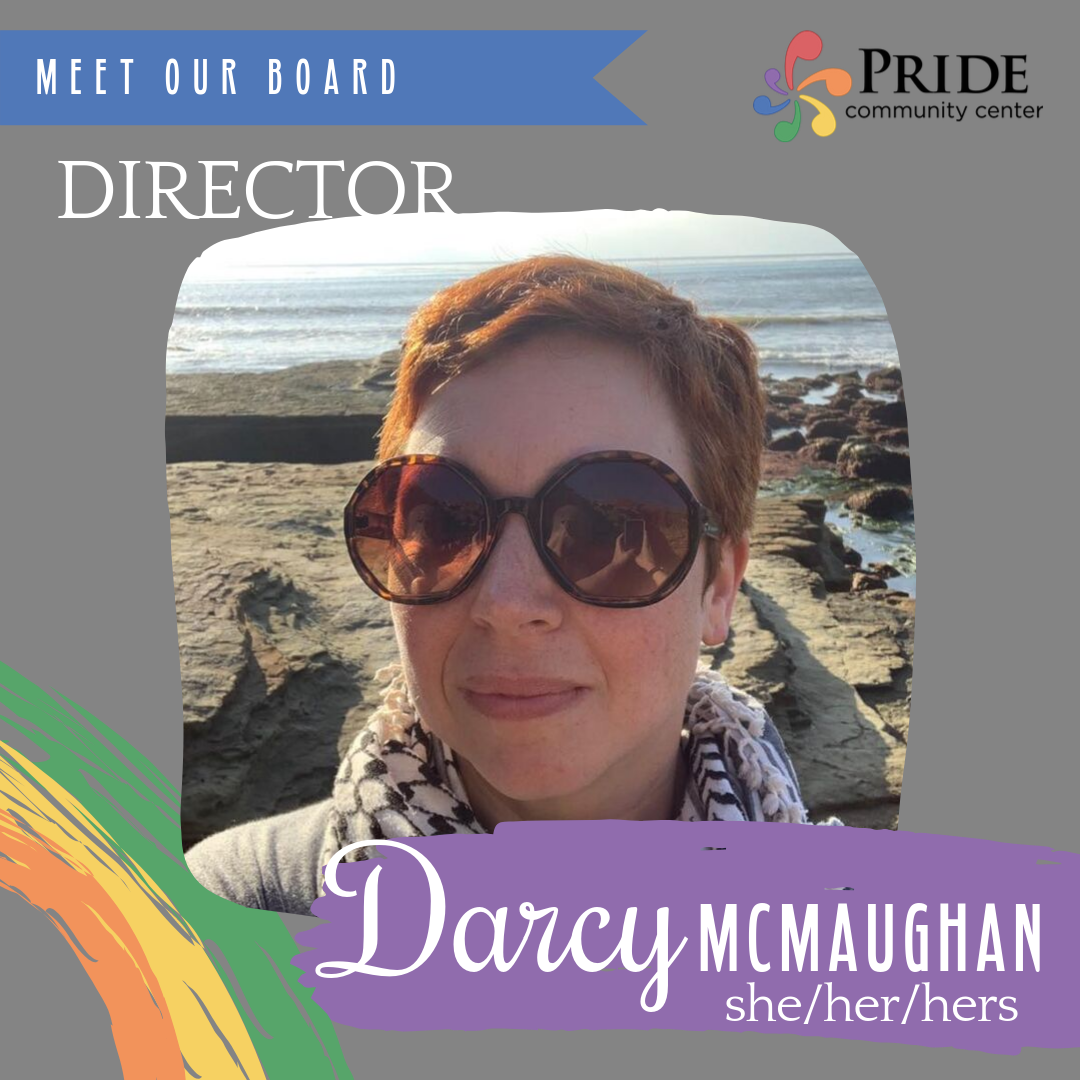 Director of Health Promotion:
Darcy McMaughan
Pronouns: She/Her/Hers

Originally from San Antonio, Darcy moved to Bryan in 2000 after living in Amsterdam for several years. She is a second generation Ag and faculty at the School of Public Health, where she works on systems change for people with disabilities. She loves trail running and remodeling her 100 year old house with her partner and kids, and is active in the local running community.
Staff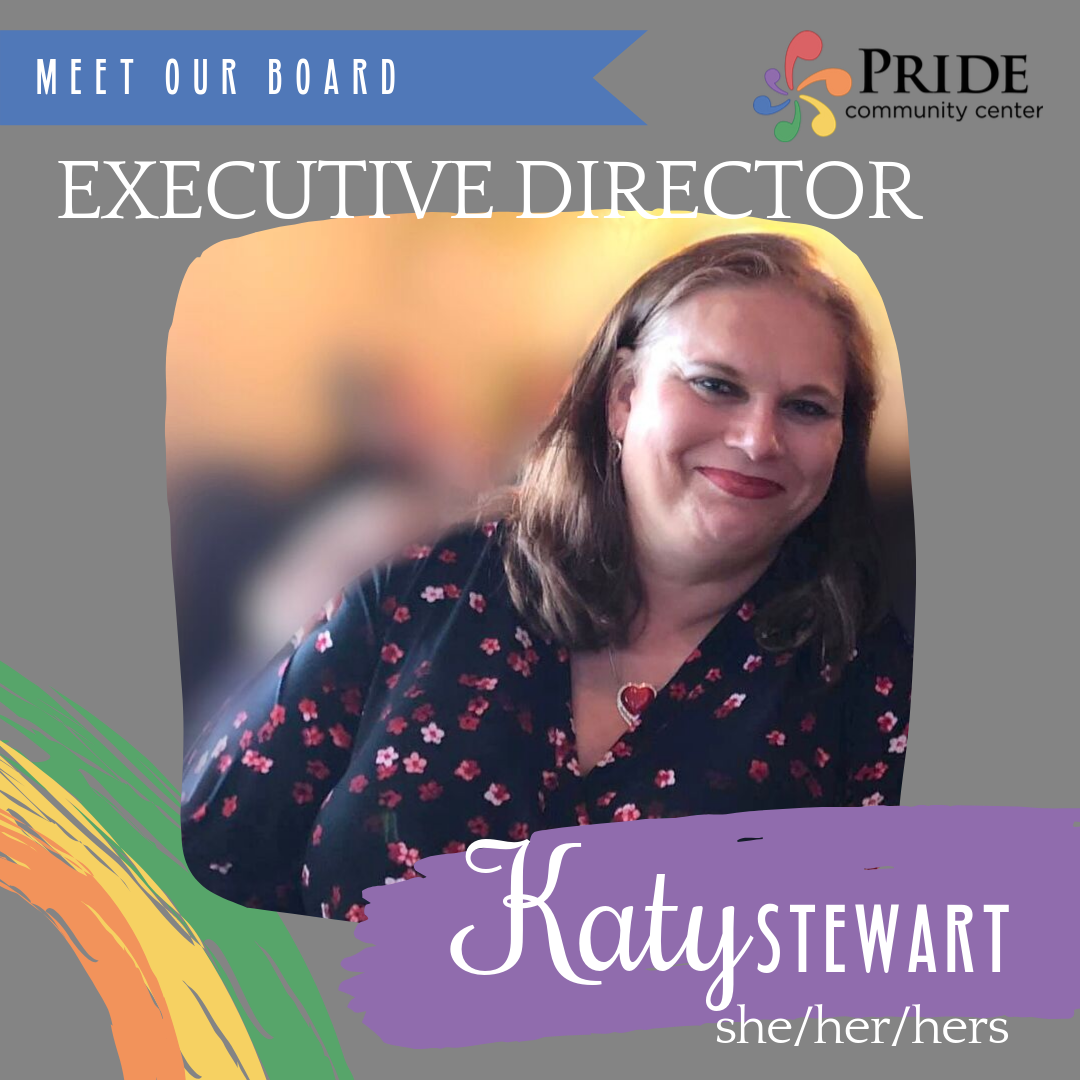 Executive Director:
Katy Dawn Stewart
Pronouns: She/Her/Hers

Our volunteer Executive Director, Katy is a senior leader in LGBT civil rights and transgender education. Having served on boards of directors at the local, state, and national level, she has formerly served on the boards of Equality Texas and Transgender Education Network of Texas as well as the Steering Committee for Trans Advocacy Network.
These days find her coaching and educating about transgender life wherever she can. Notably she has presented classes on working with transgender clients for the National Sexual Assault Conference of 2017, had presented at teacher in-service in working with transgender students, and regularly offers her unique expertise and insight in regard to these topics as well as capacity building for movements and nonprofits.