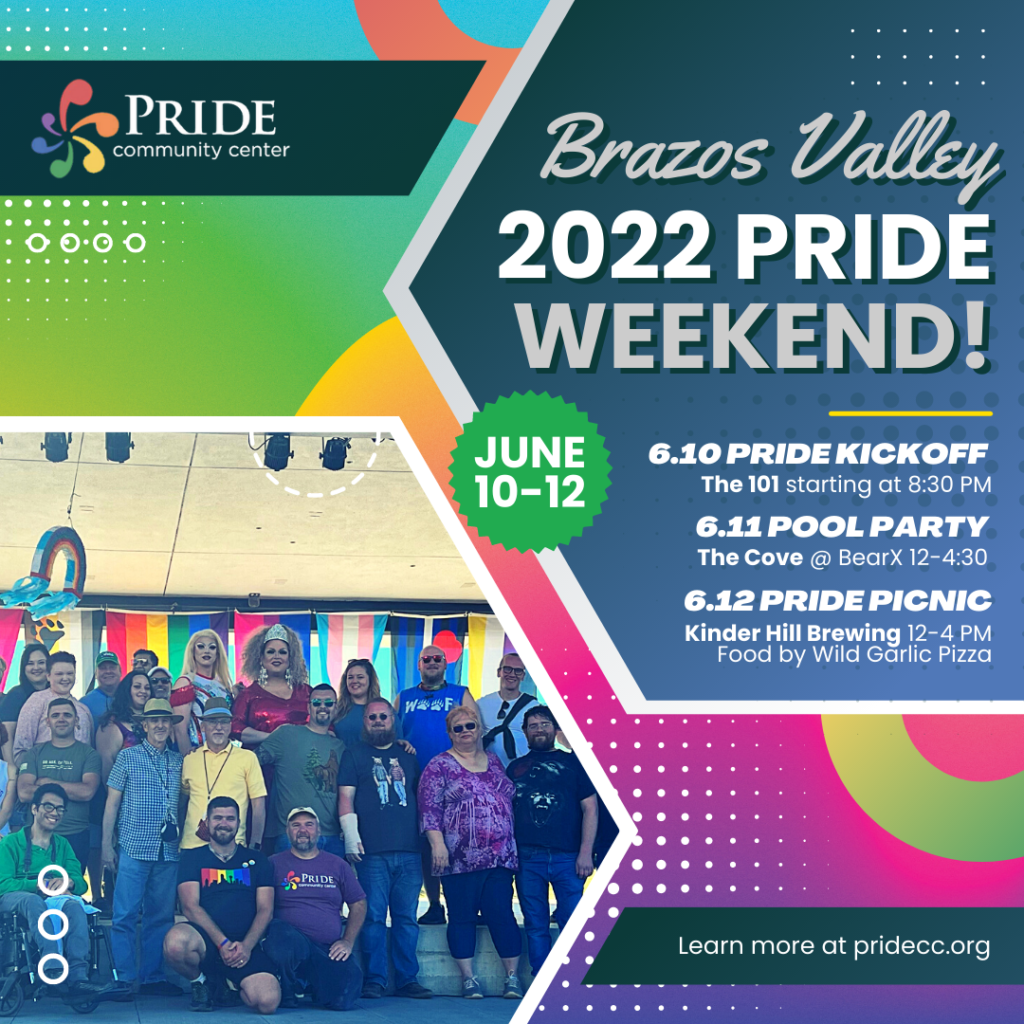 Join Pride Community Center the second weekend in June as we celebrate Pride month in the Brazos Valley. Events will be happening Friday through Sunday. We want you there to make this the funnest, most awesome Pride weekend ever. Encourage your friends from out of town to stop on by, bring the kids to our picnic on Sunday. Pride is for everyone wanting to celebrity the resilience and sparkly beautifulness of LGBTQ+ people.



The weekend starts off on June 10th, 2022 at 8:30 pm at The 101. Then, get your swim gear on and join us over at The Cove @ BearX from 12pm – 4:30 pm on Saturday. Finally, join us for some quality family time on Sunday from noon to 4pm at Kinder Hill Brewery where we will have pizza from Wild Garlic Pizza. Make sure to reserve your pizza today so we know how much is needed. Wild Garlic has cooked us up a special menu to celebrate Pride 2022.

We hope to see you in person

As always, we need volunteers. If you would like to help us out, please sign up HERE

We also can always use more sponsors, contact Rick Burgess, our treasurer at Rick.Burgess@pridecc.org if you can help us out in that way

And, we need silent auction and raffle items. If you can help us with this kind of special treat for Pride attendees, we would really appreciate it. Contact Rick Burgess to help out with this as well.

Special thanks to Rick Burgess, Treasurer of the Board of Directors of Pride Community Center for planning these events. Additional thanks to the leadership of Pride Community Center for bringing quality and inclusive LGBTQ+ events and programming to the Brazos Valley